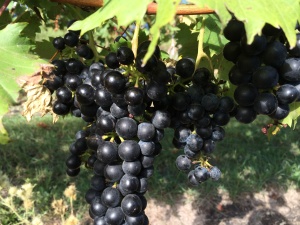 Chambourcin Harvest! – Volunteer Picking Party!
Chambourcin Harvest is here!
Come experience the best day to be in a vineyard… Harvest!
Become a part of the making of Authentic Kansas Wine. We will be harvesting next Saturday, September 24th, beginning at 8:30 AM.  Following will be a harvest lunch and sangria made by our own Chef Julie. Many hands make light work, and we try to keep the picking to less than two hours.

-You must sign up in advance. Get your free ticket here:
https://www.eventbrite.com/e/chambourcin-harvest-volunteer-picking-party-tickets-27776739977
– The current weather forecast is amazing, but please dress appropriately. Our vines are planted in amazing soil. Plan to get dirty!
-If anyone wants to come early at 7:30 AM and help lift the nets, please email: bob@prairiefirewinery.com
– If you have a pair of pruners you prefer to use, please feel free to bring them. We will sanitize them for you prior to use to prevent disease transmission from plant to plant.
– Sunscreen, hats, gloves, sunglasses, etc. are always a good idea. (You might also bring a change of shoes and clothes in case the ground and vines are wet so you will be more comfortable during lunch.)
– You be will first to sample our 2014 Chambourcin Estate and have the first option to purchase prior to its future release. Our labels are finally ready! (Don't tell Bob, he likes to age his Chambourcin…Shhh…)